Condenser Head Hinges for HVAC Market
Manufacturers of HVAC equipment utilize different types of hinges in their products. We, at Kiesler Machine, are all equipped to meet the needs of HVAC system manufacturers when it comes to the production of condensers. Manufactured for extreme reliability and long term of usage, the offered condenser head hinges and cover hinges beat the competition. They are resilient and the stainless steel models are corrosion resistant. They possess all the features that the condenser manufactures opt for to make a reliable connection.
Types of Condenser Head Hinges and Cover Hinges
Your search for condenser head hinges results in several options. At Kiesler Machine, we realized that the condensers are produced in various models with different specifications. This is exactly why we keep several types of hinges that can be chosen ideally to fit the purposes. The following are the types of hinges we.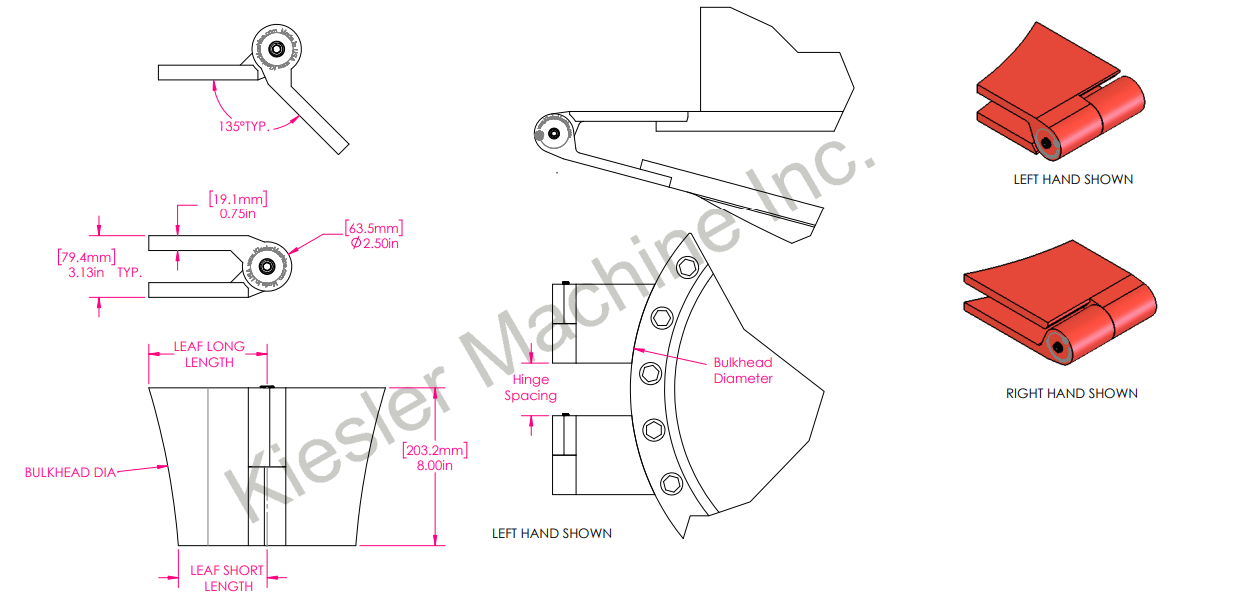 Beneficial Features of Condenser Head Hinges and Condenser Cover Hinges
Getting the right hinge from a trusted manufacturer is extremely important considering their significance in applications. When you partner with Kiesler Machine Inc, you will get the most suitable hinge unit for your application. The following are the features that contribute to the widest popularity of condenser head hinges and cover hinges amongst the customers from HVAC market.
Our hinges are suitable for heavy duty applications ranging up to 25000 lbs. We develop both left-hand and right-hand configuration hinges. The rugged and durable nature of our hinges provides them with unsurpassable load bearing capacity.
They are designed to guarantee a clean and neat appearance, contributing to the overall aesthetics of the condenser unit.
Condenser Head Hinges are manufactured for easy mounting and installation. You can complete the installation quickly without taking any painstaking efforts.
Stainless steel hinges are made to withstand rigors of the application areas and are resistant to chemicals and other corrosive materials.
Manufactured for left or right-hand configurations.
Produced using carbon steel or 304L and 316L stainless steel.
Condenser Head Hinges we offer at Kiesler Machine are manufactured with great load bearing capacity.
Fabricated with carbon steel, 304 or 316 stainless steel, zinc plating, or galvanized coatings are available.
Hardened and precision ground alloy steel pin assures years of dependable service.
Applications of Condenser Head Hinges
Specifically designed to provide a safe and efficient method to open and close the condenser channel covers, the hinges we offer at Kiesler Machine guarantee trouble free performance. Available in a wide range of specifications as per the condenser configuration, you are sure to get the right hinge delivered on time and within budget. Some of the industries we serve are:
Chemical Plants
Petroleum Industry
Pharmaceutical Manufacturing
Food Processing
Pulp and Paper
Industrial Manufacturing
If you would like to know more about the condenser cover hinges, get in touch with the customer care executives. Get started with the most ideal hinge production by partnering with the prominent name in the market, Kiesler Machine Inc. info@kieslermachine.com or toll free 888-565-6610